Sustainability is present and future
The office building Weitblick is not only an architectural feast for the eyes, but also a highly sustainable and technically sophisticated property with very high-specification office space. The building gets its heating and electricity from a central district heating plant. Cooling is via a thermally activated building system. There is a dedicated photovoltaic installation, which contributes to the resource-friendly energy supply.
The ecological and sustainable construction has already been awarded the highest possible LEED platinum certification (Leadership in Energy and Environmental Design). All these features serve to protect the environment and control costs, reduce the supply from other energy utilities and make the building largely self-sufficient in terms of energy.
Roof terraces and lots of services
The landmark building benefits from unparalleled visibility from the B17 federal road, occupies an approx. 8,836 m² site and has a lettable office area of approx. 17,400 m² GEA. The underground garage offers 322 car parking spaces over two levels. Occupiers can enjoy the sunset from the roof terrace. A canteen, in-house catering service (www.weitblick-event.de), concierge service and children's day nursery complete the all-round service palette for the tenants. With a dynamic control system and light sensors (using so-called electrochromatic glass), the sun protection factor of windows and façades on the 4th and 5th floors can be adjusted fully automatically to the current daylight situation.
Building access is controlled via hand vein biometric identification, ensuring the highest level of security and convenience. A dedicated Weitblick building app in under development to combine all the functions such as room climate control, reservations, access, information system etc. as modular systems for the individual tenants. The landscaped courtyard is the green lungs of the complex and a great place to relax at lunchtime.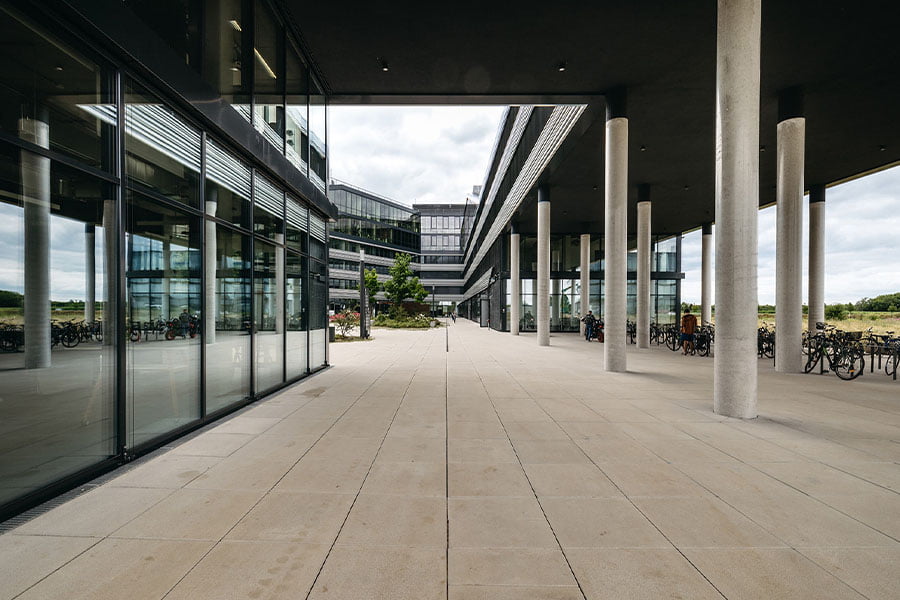 Roof terrace available for use by all tenants
Underground garage with around 322 car parking spaces
LEED platinum certification
High tech water treatment installations at all building entrances
Building access control system using hand vein identification technology
Electronic door bell system with video intercom
Cooling via thermally activated building system
Digital signage in the lifts
Electrochromatic glazing to the 4th and 5th floors
Barrier-free access to all rental units
Intelligent conference room management
VIP bicycle storage with e-bike charging stations in the cellar
Weather-proof DHL parcel service in the underground garage
High-speed glass fibre internet connection
Event and conference centre on the 5th floor
Property illumination at 4th and 5th floor levels
Landscaped courtyard with pavilion
Own brand Weitblick honey (2 bee colonies)
(office and archive space)