The city of Augsburg was founded by the Romans over 2,000 years ago. The third largest city in Bavaria has a population of almost 300,000. Thanks to the two business dynasties Fugger and Welser, the city became known across Europe as a trading and financial centre from medieval times. A few centuries later, the city saw the development of the first Diesel engine by Rudolf Diesel himself, the development of the first chiller machines by Linde and the commencement of the serial production of jet aircraft by Messerschmitt.
This level of technical innovation meanwhile continues at Augsburg Innovation Park, the location of the office building Weitblick.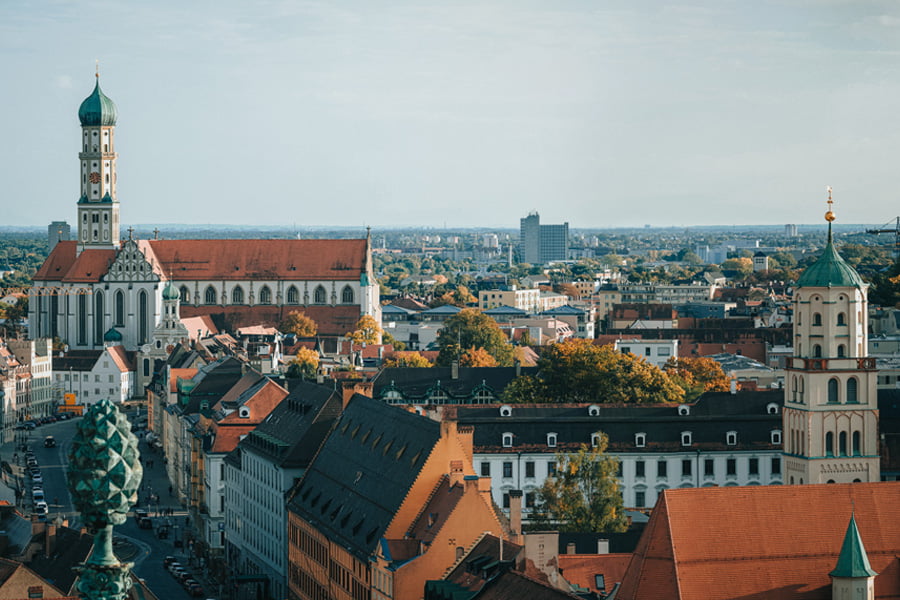 View over the Bavarian city of Augsburg.
The new bus station at Königsplatz is where tradition and modernity come together.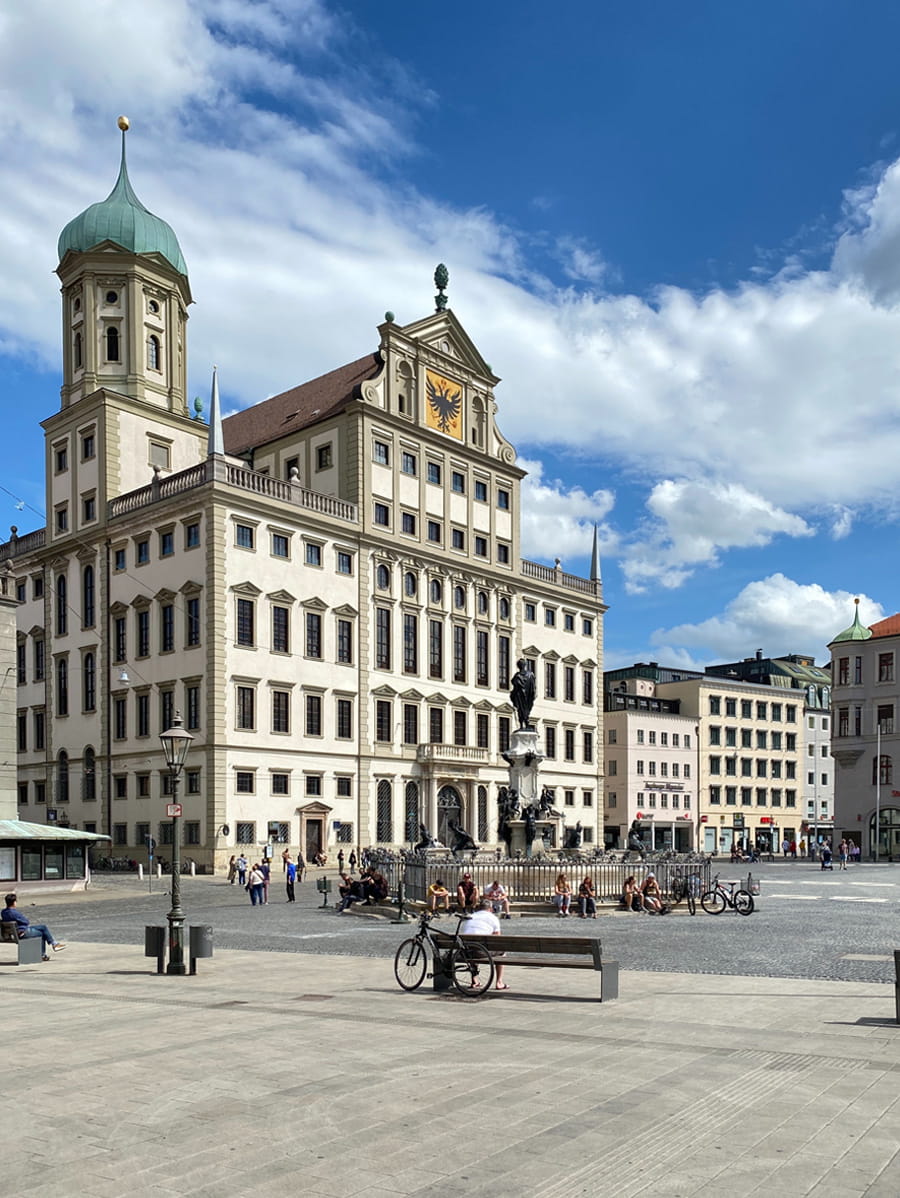 Augsburg city hall was completed in 1624 and shows the magnificence of the city in post-Renaissance times.
The Fuggerei comprised 142 apartments and 167 houses. It is the world's oldest social housing estate.
Augsburg innovation park
Augsburg Innovation Park is one of the largest of its kind in Europe and benefits from optimal infrastructural connections. The contemporary campus-style site is where science and research meet industry and manufacturing. Siemens, Infineon, Fujitsu and other high-profile companies have long since discovered the qualities of the location.
The distances are short between the university, research institutes and long-established institutions such as the Fraunhofer, the Deutsches Zentrum für Luft- und Raumfahrt and the Institut für Materials Resource Management.
The park focusses on technology in the mechatronics and automation, environmental technology, ICT, Industry 4.0, fibre composite technology and lightweight construction sectors.
Weitblick occupies a prime location in the Augsburg Innovation Park, just a few kilometres from the city centre and just a stone's throw from the Messe Augsburg trade fair. The university campus is also in the immediate vicinity.
The property benefits from optimal public transport connections. There is a tram stop directly in front of the property, from where Augsburg city centre is just a 10 minute journey. As the office building Weitblick is located right next to the B17 federal road, there are very good connections to the road network and the A8 motorway is just 12 km from the site.
In addition to the in-house amenities, tenants have access to the excellent infrastructure in the immediate vicinity. Within walking distance are a convenience shopping centre, restaurants, medical practices and hotels, and much more.
Distance to the city centre
Direct connection to the B17 road
Distance to Munich airport
Distance to Memmingen airport
Distance to the A8 motorway
Direct connection to public transport